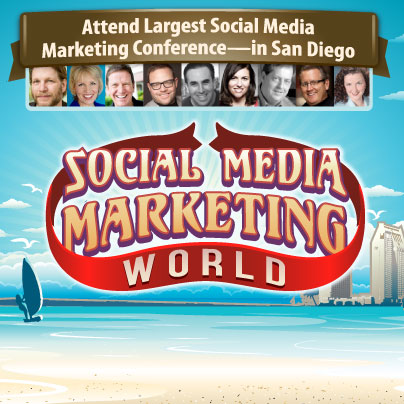 By Gloria Rand
Michael Stelzner and Social Media Examiner are at it again. They are hosting Social Media Marketing World 2014 in San Diego next March. I attended this year's inaugural conference, and was blown away by the content, speakers, attendees and venue.
I've put into practice the lessons learned from marketing experts like Marcus Sheridan, of the Sales Lion, who talked about the golden rule of blogging, "They Ask, You Answer." I also took away empowering strategies about
Google+ from Guy Kawasaki, and Twitter from Mark Schaefer.  And that was only the tip of the iceberg.
There were also terrific networking events, like the opening night party at the San Diego Natural History Museum and an exclusive evening aboard the Inspiration Hornblower, the largest private yacht in Southern California.  
Social Media Marketing World 2014 – a Remarkable Conference
Next year's conference promises to be just as awesome. Here are 4 reasons why you should reserve your spot for San Diego:
#1 – Meet the Experts
For the past five years, I've followed social media experts like Mari Smith, Michael Stelzner and Chris Brogan.  In San Diego, I was able to meet these people in person! Now, you have an opportunity to do the same.
Presenters at next year's conference include Chris Brogan (co-author of The Impact Equation), Mari Smith (co-author of Facebook Marketing: An Hour a Day), Michael Hyatt (author of Platform), Jay Baer (author of Youtility), John Jantsch(author of Duct Tape Marketing), Amy Porterfield (co-author of Facebook Marketing All-in-One for Dummies), Mark Schaefer (author of Tao of Twitter), Michael Stelzner(author of Launch), Steve Farber (author of The Radical Leap), Laura Fitton (co-author of Twitter for Dummies), Lee Odden (author of Optimize), Joe Pulizzi (author of Epic Content Marketing), Simon Mainwaring (author of We First), Cliff Ravenscraft, Pat Flynn, Marcus Sheridan –just to name a few.
#2 – In-Person Networking with Experts & Peers
Two-thousand marketers from all over the world will be coming to San Diego next March, twice as many as attended this year's conference.
I personally met peers from Ireland, Australia and Canada at SMMW13, as well as marketers from all over the United States. Here's what you can expect at SMMW14:
The 2014 networking opportunities will include the opening night party aboard a Naval aircraft carrier—the USS Midway—the world's largest ship until 1955! Enjoy a once-in-a-lifetime networking opportunity as you experience giant hangar bays, view San Diego from the 4-acre flight deck, fly flight simulators and explore this massive ship.
You can also take part in structured networking after keynote speeches and lunch.  Or enjoy a quiet place to sit and talk, or do some video interviews at the Networking Plaza. If you're athletically inclined, you can even join the early-risers for a morning stroll (or run) while you make new connections.
Check out what social media pros have to save about Social Media Marketing World:

#3 – Exceptional Content
SMMW14 will feature more than 60 expert-led marketing sessions covering social tactics, social strategy, community management and business building, and content marketing.

Here's a quick glimpse of the amazing content you can expect at Social Media Marketing World 2014:
Social Tactics Track: Find out the best and newest ways to market your business with social media. Pick up actionable tips to improve your marketing with Facebook, Twitter, LinkedIn, YouTube, Google+ and Pinterest.
Social Strategy Track: Discover new strategies that will draw ideal customers to your business. You'll soak in sessions on social strategy, the psychology of social media, measuring social activities and much more.
Community Management and Business-Building Track: Uncover how to build communities and ultimately sell your products and services via social media. Track sessions include Facebook community management, developing community with blogs, building local businesses with social media and selling with social.
Content Marketing Track: See how successful bloggers, podcasters and Youtubers build and maintain content that their customers love sharing. You'll discover how to leverage content to sell, how to move people to action with content and tips for excelling with blogging, podcasting and video.
#4 – Make it a Vacation
San Diego is such a beautiful location, why not extend your trip and make it a vacation? Social Media Marketing World begins Wednesday evening on March 26 and ends Friday, March 28.
Keep in mind that a conference like this normally costs thousands of dollars. There are also smaller events that offer a lot less, yet cost a lot more. With all of these experiences and activities to enjoy in San Diego, this is the type of deal you don't want to pass up.
Want to Save Money?
For a limited time, you can save hundreds of dollars off the regular registration price. Click here to register!
Just think, this could be you, next March at Social Media Marketing World 2014: